ARCHIVES —
Belong
Belong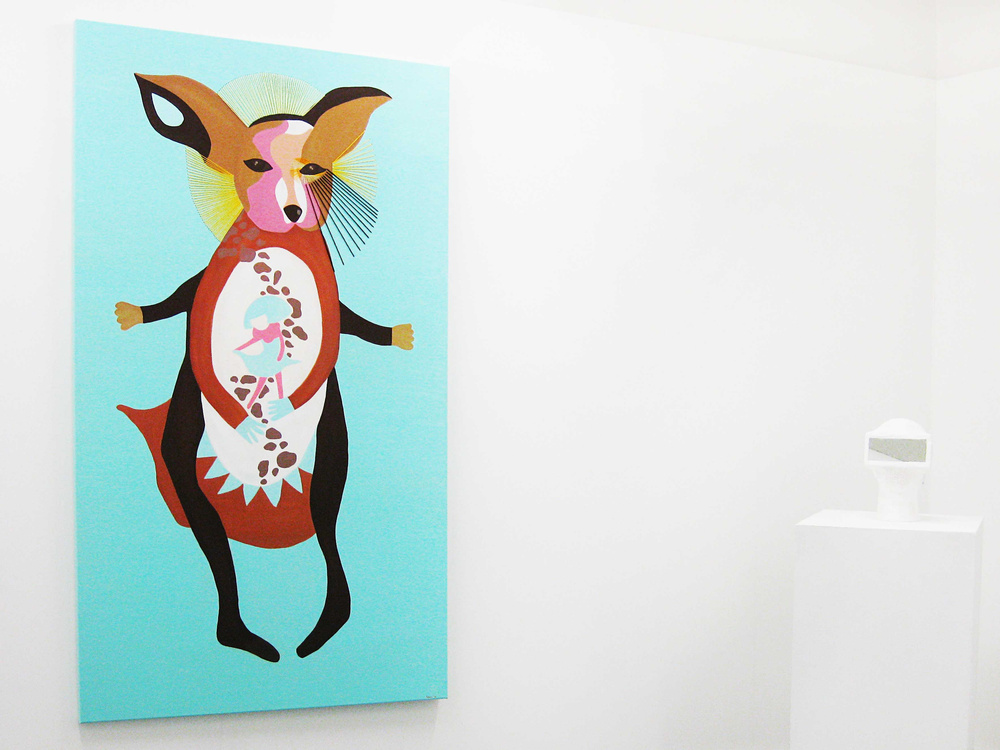 The Space that Measures Distance
Chinese Museum, Melbourne
—
acrylic & thread on canvas,
101 x 171 cm
—
The aim was further to investigate the humans and animals, through the use of large-scale canvas to examine the individual's relationship with themselves and others. This distorted figures and incorrect propositions and perspective are used to represent the girl's naiveness. The girl inside the kangaroo's belly represents women and their emotions. This painting aims to experiment with secondary colour and softness of colour attached to a large scale. Perspective, narrative, decoration, patterning and humour were again exploring.
Girl & Animal
Solo Exhibition, 2011
Firstsite Gallery, Melbourne
mixed media
—
The best horror films start on a bright day with an expertly subliminal touch of unease. These drawings are a satire of innocence and naivety, where the flat colours and stitching underline a disconcerting reality. This exhibition combined paintings, drawing and hand-painted murals.
Timeless
installation, 2010
mixed media
—
This collection of artworks were gathered togethe for this installation. Despite their scattered origins, this has become a timeless memory of artist's art process. The materials used for this work ranged from glitter to acrylic, reflecting a personal playground of a wild and whimsical mind where fantasy comes from vision.
Series - Forest Wilderness
watercolour on paper, 21 x 30 cm, 2016
Wandering
, acrylic on wall, est. 4 m, between Pigdon Stt and Amess St Melbourne, 2015